Plastic Free July is a month-long initiative encouraging people to reduce the amount of plastic they use in their daily lives. It gives people the opportunity to think about what they're buying and how they can change their habits to reduce plastic usage.
We're always looking for ways to reduce our own use of plastic and encourage our clients to make the switch too. We explore sustainable and environmentally responsible alternatives to plastic every day as part of our One World initiative.
REPLACING PLASTIC MATERIALS
We use a wide variety of materials that can replace or reduce the use of plastic, such as biodegradable materials like wood, recycled cotton, cork and FSC paper instead of plastic, virgin cotton and polyester.
Watch the video below to discover how we're working in collaboration with our clients to develop plastic-free marketing materials.
MAKE A PERSONAL COMMITMENT
You can help. Whether you're a scientist, an environmentalist, or just someone who cares about our planet, anyone can get involved and help with these issues. To get started, try taking one kind of plastic out of your everyday life and replacing it with a reusable alternative.
Here are some more ideas on how to get involved in Plastic Free July:
IN THE WORKPLACE
1. BIN AUDIT- A bin audit is a great way to take stock of what waste you could be avoiding, and improve your composting and recycling habits.
2. ENGAGE YOUR COLLEAGUES- Increase your impact and encourage the people you work with to refuse single-use plastic.
AS A BUSINESS
3. PACKAGING- Getting rid of plastics from your business' everyday practices can make a huge impact. There are lots of practical alternatives now; it might be easier than you think to make a big impact with some small changes.
4. WORKING WITH SUSTAINABLE PARTNERS- When you work with partners who believe in sustainability and produce items that can be easily recycled or refurbished, you'll help make a big difference.
IN COMMUNITIES
5. BEACH/ PARK CLEAN UP-

You can make an immediate and real difference to the environment by cleaning up a local park or beach. At ASL, we fully support our people taking time out of their working day to attend community events.
6. LOCAL COUNCIL ACTIONS- By expressing your interest in building a plastic free community to your local council and by gathering support from neighbours and local businesses, you can set up information sessions that will help the message spread and will create small hubs that will move the initiative forward.
---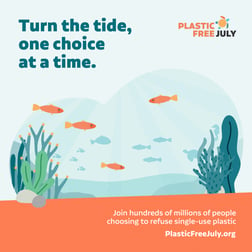 If you're keen to participate in Plastic Free July, you can sign up for the movement on their website. When you register, you'll be sent regular emails with tips, tricks and resources to help make your journey to a plastic-free lifestyle easier.
We want to inspire people to take better care of our environment and live more sustainably in general. Here at ASL Global, we acknowledge the importance of supporting our employees and clients to find ways of reducing everyday waste through simple and effective measures.
---
ASL Global is committed to conducting our business in a responsible & sustainable way. Acting with passion and integrity, our people work with customers, suppliers and other stakeholders to make a positive contribution to social responsibility and environmental sustainability in communities around the world.
Discover more about our ONE WORLD initiative
---