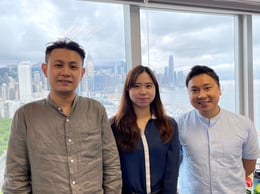 Earlier in June we were delighted to welcome our new Intern Charlotte Kwan to the ASL family, taking on the role of Marketing Intern based in Hong Kong.
As Charlotte now prepares to complete her journey with ASL, we caught up with her to discover what she has learnt and what she will take away from her personal experiences at ASL Global.
Charlotte Kwan is a first year student at The University of Hong Kong, majoring in Journalism. She wanted to broaden her experience and communications skills through her internship, specifically familiarizing herself with teamwork and collaboration with colleagues. This focus has provided Charlotte with extensive and valuable knowledge surrounding workplace communication and how to build positive working relationships.
We asked Charlotte to reflect on her time at ASL Global and what she has learnt during time with us "The APAC sales team has constantly encouraged me to ask questions and have taught me a lot about the industry. Spending time with them has allowed me to grow both personally and professionally. Indeed, I have a clear picture of marketing and how important collaboration between departments is in the successful completion of projects. I would like to thank the ASL team for giving me such a fruitful experience during my time with them!"
We recognise the valuable benefits ASL's internship scheme provides to students. This includes allowing young people to explore their desired career path and helping them to develop and refine their skills. Working alongside ASL's industry professionals builds confidence and provides valuable insights & knowledge. We are delighted to be able to provide this opportunity to the next generation of industry leaders.
Charlotte added 'During my time with ASL, I've been assigned multiple tasks including proposing ideas for clients and helping with the product quotations. Working on such tasks, I've applied the research and communication skills I've learned from college, and learned to think about how to be creative in a practical sense. It's definitely a great chance for me to apply my educational knowledge in real life while learning on-the-job experience.'
---
As part of ASL's ONE WORLD initiative, we have set a specific target to significantly develop an inclusive Work Experience programme which gives young people from all backgrounds the opportunity to experience working with some of the world's biggest brands.
Are you a recent graduate or young person seeking work experience or your first marketing role? We're always looking for talented people with a passion for teamwork and a disruptive mindset! Contact us today for the opportunity to join a friendly, dynamic global business.
---