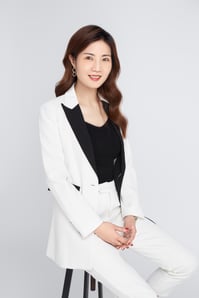 Continuing our celebration of successful Women in Leadership within ASL, we spoke to Samantha Liu who is based in our Shanghai office. Sam is General Manager for the region, responsible for a huge market spanning China, Taiwan and South Korea. She has a large sales team reporting into her and takes full ownership for continued growth in this critically important market.
Sam is full of persistence and passion which is reflected through her successful career with ASL Global over 17 years. Under her expert guidance, sales have grown rapidly over the past four years in this region, and her team has forged strong relationships with major clients such as Coca-Cola, McDonald's and L'Oreal. We spoke to Sam about her career progression and experiences within ASL Global.
1. How do you balance work and life responsibilities?
It's difficult but I try! It's important to spend more time with family during vacations and weekends, and I try to take a complete break from work during those times.
2. As a female leader, what has been the highlight of your career (so far)?
Every time our team wins an order or a vendor pitch is a highlight for me. The team is 100% focused on their sales targets and sharing in their success is very rewarding.
3. As a female leader, what has been the most significant barrier in your career?
I'm a perfectionist! I put a lot of pressure on myself by trying to make everything related to my job perfect.
4. What personal sacrifices have you made throughout your career?
In common with many of my female colleagues, creating more time to spend with my daughter and family is always a challenge.
5. Could you name a woman who's inspired you the most?
Mrs. Lee who was my team leader in my first job. She was very supportive and a great leader.
6. What advice would you give to the next generation of female leaders?
Define your will to succeed at an early stage, start your career path with in-depth training and develop strategic expertise in a targeted way. Always embrace change along the journey.
7. What energises you about work?
My clients, the support of ASL's Leadership Team and the trust of my own Team.
8. What's the greatest risk you've taken as a professional?
Stepping out of my comfort zone to join ASL Global from the very beginning. We started from scratch in China with a challenge to explore and build. It's great to see how we have grown into a successful business from that 'zero' starting point.
9. Is there anything specifically about working for ASL that you've found beneficial as a female professional?
ASL has many good female leaders that I can learn a lot from. Their passion and professionalism impresses me every day.
---
Do you want to know more about ASL's female leaders? Click here to see how we encourage diversity, equity and inclusivity, both in our own business and the communities in which we operate.
#diversity #equity #inclusivity #oneworld #oneteam #aslfamily #femaleleaders
---