Posted on 5/09/2022 by Ellie Roy
Today is International Charity Day (Monday 5th September 2022). To celebrate this day our ASL Global intern Ellie Roy, based over in the UK has been working alongside Mark McDonnell, ASL's Chief Executive Officer, to arrange a donation of all items sitting in our storeroom to Newlife – The Charity for Disabled Children, who will find them a new and loving homes, via their retail network. Not only is this part of our commitment to contribute back into local communities but additionally helps to reduce our overall carbon footprint by reducing waste and living our motto Recycle, ReUse and Repurpose.
---
We managed to collect three large containers full of untouched samples which we are delighted to see go off to Newlife, end up in stores and ultimately, help children and their families. These samples were of toiletry bags, purses, handbags and shopper bags.
Newlife – The Charity for Disabled Children is a non-profit organisation based in the UK, which is the largest charitable provider of specialist equipment for disabled children in the UK. From childhood cancers to birth defects, accidents to diseases and infections, Newlife has a dedicated team on hand to assist families in need of equipment and support. Newlife provides equipment such as wheelchairs, buggies and specialist beds. Thousands of people in the UK rely on Newlife for equipment to help with quality of life and to help them achieve their full potential, as well as emergency equipment, when a child is in urgent need.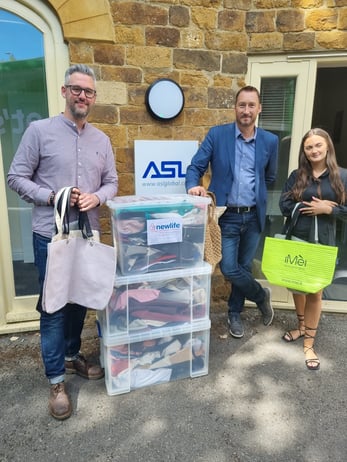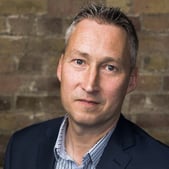 Our CEO, Mark McDonnell explained, 'as part of our One World Commitment we have pledged to ensure that ASL Global, and our people, are the best global citizens we can be. It is our commitment to become more sustainable, both as individuals and as a business, and to help our customers & suppliers to also make a positive contribution towards social & environmental sustainability. It was fantastic to meet Craig Stewart NewLife's Head of Corporate Fundraising and hear all about the positive impact that our samples will have on struggling families.'
Our intern, Ellie Roy added, 'Its great to see our team getting involved and making a contribution. I also want to say a huge thank you to everyone at NewLife for all of their hard work and efforts towards helping these struggling family. We are so proud of the whole team and all of their continuous hard work.'