As part of our continued commitment to the environment, we are once again organising ASL's Big One World Clean-Up for 2022! To help celebrate World Oceans Day on 8th June, everyone across ASL is joining forces to help clean up the waterways in their local communities.
This is a global day of volunteering action first organised by ASL in 2021. Last year, ASL teams in 12 countries got together with friends & family to clean up the beaches, rivers and other waterways in their local communities.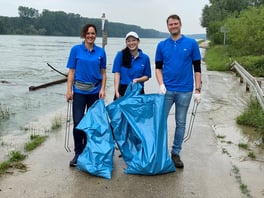 It was a great day of action with lots of fun along the way. And, most importantly of all, the campaign delivered over 500kg of rubbish collected from various waterways stretching from Portugal to Australia. But we have bigger ambitions for 2022.
Emma Pomeroy, ASL's Chief Sustainability Officer explains "This year we want ASL's Big Clean Up to be even bigger a& better. We're inviting clients and suppliers to join in and help with the initiative. It's a great way to spend time together outside of the office (or home) environment and make a positive contribution to their local communities at the same time".
Giving Back to Local Communities
The campaign is part of ASL's sustainability initiative, One World, which focuses on carbon reduction and socially driven community activities which promote diversity and inclusion. Emma Pomeroy explains "This type of activity is what the One World initiative is all about. Getting out into our local communities and making a difference. It's easy to talk about sustainability and community support, but at ASL we are committed to taking real action that results in direct benefit for the communities in which we operate".
---
Want to Get Involved?
ASL is organising community clean-up events during May & June, hoping to beat their record of 12 countries taking part last year. We're warmly inviting all of our suppliers and clients to join in with this initiative, so contact us if your team wants to take part!
#UNWorldOceanDay #oneworld #oneteam
---
Watch the video from our 2021 clean up campaign!
---
Contact us to discover how ASL can help you create innovative and sustainable marketing materials.