Posted on 20/07/2022 by team ASL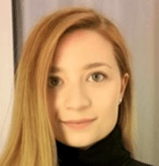 As a result of ASL Global's continued strong worldwide growth and 100% commitment to our ESG Targets, we are delighted to welcome Viktoria Lamprinaki as ASL's new ESG & Sustainability Manager. Viktoria will be responsible for the management and delivery of ASL's key sustainability initiatives which aims to steer our business towards a more sustainable future.
Viktoria originally joined the ASL team back in 2019 as a PhD graduate in Strategic Management & Environmental Sustainability, and played an integral role in the conception and development of ASL's ONE WORLD strategy at this time. Viktoria went on to head up a dynamic team at the Institute of Biologists, responsible for devising and communicating a wide range of innovative sustainability solutions for this leading publishing organisation.
Viktoria returns to ASL Global with several years' experience working on the development, delivery & communication of corporate sustainability programmes with organisations across Europe. Her new role is to work with ASL's teams in 50+ locations worldwide, driving our own ESG targets, and helping ASL's clients & supply partners to become more sustainable in their operations.
Viktoria commented on her new role "It's exciting to re-join a business which takes its environmental & social responsibilities so seriously. It's easy to 'tick the boxes' when it comes to sustainability, but we have put in place a genuinely proactive framework of activities & goals which challenge us to make real change, in order to deliver a measurable difference."
She continued "ASL already works very proactively with their customers to generate more sustainable marketing activations. But there is always room for improvement and a comprehensive sustainability strategy will help to drive our activity towards tangible ESG goals. I'm looking forward to working with my ASL colleagues to deliver this initiative."

Emma Pomeroy, ASL's Chief Sustainability Officer, also commented on the appointment "We are delighted to welcome Viktoria back into the ASL family. Her knowledge and drive was critical to the successful creation of ASL's original One World initiative back in 2019, and her return to the business demonstrates her ongoing commitment to helping us continue this journey. Viktoria joins a growing global team which also reflects our business commitment to driving our ESG goals and helping our clients to do the same".
ASL Global leads the market in the development of sustainable marketing solutions for brand clients such as Heineken, Diageo and L'Oreal. Their Sustainability Team is focused on developing innovative sustainable marketing solutions, and building diverse, inclusive and economically sustainable supply chains.
We regularly reports on progress against ESG targets and ASL's latest Sustainability Report for 2022 can be downloaded here.
---
Read more about ASL Global's ONE WORLD initiative
---
ASL Global is a leading global marketing services business. Every day we work with the world's biggest brands to create and execute innovative marketing campaigns which excite audiences, build customer loyalty and demand attention.
Discover more about our ONE WORLD initiative
---