Posted on 21/07/2020 by team ASL
It's great to be back in front of our wonderful customers! Our Asia Pacific Beauty Team took part in the annual Mary Kay premiums show last week. Unlike many leading beauty brands, Mary Kay develop and plan their premiums and gifts with purchase up to six months in advance.
So, last week our Shanghai team was invited in to help stimulate creativity and collaborate on ideas for next years activations. We presented lots of ideas, with an emphasis on personal beauty products.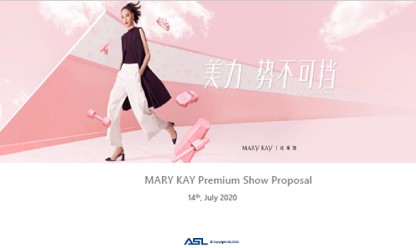 It was a fantastic session, with lots of interest in our new product ideas. Our Beauty team is now busy developing these ideas into practical, engaging premium products which will support Mary Kay's marketing activity next year.
It's so great to be back doing what we love and working with all our wonderful customers in the real world 😀
---
Do you want to generate ideas to help create more innovative marketing campaigns? ASL's experts are on hand to provide guidance and support. Why not book a free Innovation Workshop for your marketing team - we will build a bespoke, interactive workshop session tailored specifically to your brand, delivered in person or online, as required.
Contact us to book your Innovation Workshop today
---
ASL Global is committed to conducting our business in a responsible & sustainable way. Acting with passion and integrity, our people work with customers, suppliers and other stakeholders to make a positive contribution to social responsibility and environmental sustainability in communities around the world.
Discover more about our ONE WORLD initiative
---