Posted on 30/09/2020 by Emma Pomeroy
Worldwide, we consume approximately 100 million tons of plastic each year. Plastic is cheap, clean, durable and provides excellent protection when used to package all manner of products and goods. Hard to beat? It certainly seems so, on first glance. However, there are alternatives which have a much lower environmental impact, both in production and end-of-life stages of the product lifecycle.
Here's a couple of recent examples where our teams are working closely with global beer brand, Heineken, to create more sustainable marketing solutions:
---
In Mexico, our team has been working closely with Heineken to help reduce the carbon footprint of their marketing campaign materials. And they discovered that, sometimes, the simplest solutions can deliver the best results.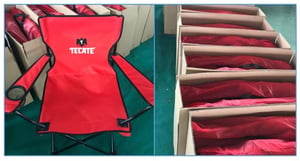 For example, for the 2020 Spring Break, we produced these fabric foldable chairs. Normally, they are individually packed in large polybags which are discarded when the items are delivered into market.
But, with careful planning and some extra testing, our team was able to create an optimised packing solution which ensured the products arrived at their destination safely, but without the usual polybag packaging. This prevented the use of 50,000 polybags, saving enough energy to charge 3,000 smartphones.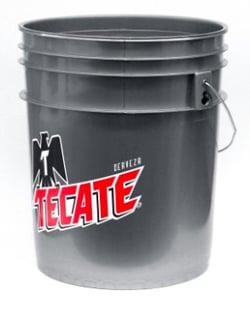 Another challenge the team has worked on this year is these 19 litre 'beer buckets' . Historically, these products are made from 100% virgin plastic. This year, we managed to replace 75% of the material with recycled plastic, reducing the products overall emissions from 28 tons down to just 10 tons of CO2e. This is equivalent to taking 15 cars off road for a year. A big impact for a single project in one market.
Luis Martinez, Procurement Manager for Heineken, commented "It's been great to collaborate with ASL on these initiatives. We have challenged ourselves to become more sustainable in our marketing operations across the region, and the ASL team has worked hard to develop some very creative solutions which help reduce our overall environmental footprint. It's important that quality and durability are not impacted by any changes, so ASL's expert input has been a great driver to the success of this initiative."
ASL's Mexico team is now assessing Heineken's full range of marketing & promotional materials to identify more opportunities to help create sustainable solutions for their customers.
---
It's not always realistic to aim for a 'perfect' environmental solution. At ASL, we take an incremental approach to sustainability - working in collaboration with our customers to make a difference project by project. Best practice learnings are shared across the business and applied to other campaigns & projects, to the benefit of all our clients.
In this way, we continue on our own sustainability journey, and help our customers and suppliers to do the same. Rome wasn't built in a day, but we are fully committed to this direction of travel, which is helping to create a more sustainable world for everyone.
---
Are you looking for innovative, sustainable marketing services support? Contact us to discover how ASL can help your marketing campaigns become more environmentally sustainable and socially responsible.
---
ASL Global is committed to conducting our business in a responsible & sustainable way. Acting with passion and integrity, our people work with customers, suppliers and other stakeholders to make a positive contribution to social responsibility and environmental sustainability in communities around the world.