We are pleased to report that ASL's intern programme is back in full swing for 2021. For over ten years, ASL has helped young graduates onto the career ladder in countries ranging from the UK, Hong Kong and Brazil.
This important initiative helps the brightest young talent from over 51 countries to gain experience in developing exciting marketing campaign solutions for some of ASL's biggest brand partners. In return, ASL benefits from the fresh thinking and positive energy that these young people bring into the business.
Roniel So, ASL's Regional Sales Director for APAC, explains "It's so positive to see our Intern programme up and running again. The Covid19 pandemic effectively put this on hold in 2020, so its great to start welcoming graduates back into the business. Our Interns always offer new ideas and a fresh perspective on our ways of working, which is so valuable for our teams. We value their input and their enthusiasm is a great energiser for the whole team."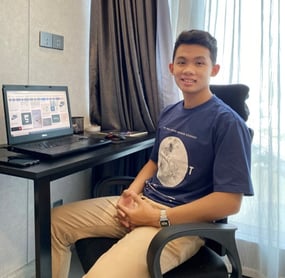 Our latest Intern, Kha Hoang Truong (Kha), joined ASL recently as a designer in our Vietnam team. He spoke about his experience so far
"My first few days with ASL so far has been really interesting. Everyone in the Vietnam office is friendly and enthusiastic, which helps to build up a dynamic team and create a comfortable working environment. I am extremely impressed with what ASL has achieved as a global business as well as the innovative products it has developed. That's why I'm looking forward to gaining more experience at ASL and I can't wait to see my ideas come to life in the market!"
Welcome to the business, Kha - It's great to have you on board!
---
Are you a recent graduate looking for work experience or your first role in marketing? We're always looking for people with a passion for teamwork and a disruptive mindset!
Contact us today
for the opportunity to join a friendly, dynamic global business.

---