Throughout 2021, Covid has still dominated everyone's lives in so many ways. So it's great to see our teams across 50 countries getting out & about, gathering ideas and forging new supplier relationships.
Earlier in September, our team visited India's biggest Gifts & Promo Trade Show, Gifts World Expo 2021 held in Delhi. This major event attracts corporate & trade buyers from all over the region, with over 100 suppliers exhibiting this year despite ongoing Covid restrictions.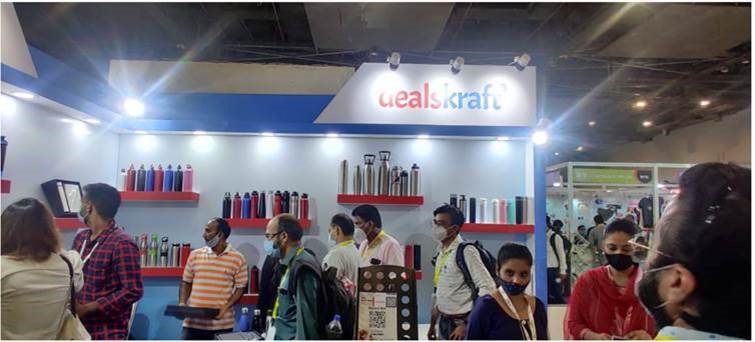 The show always features a wide range of corporate, celebration and festive promo ideas, and this year was no exception. Our team found solutions for every possible gifting scenario here, with paint pouring effect lamps, bespoke minted coins and electronic gadgets among some of the more interesting products on display.
Sustainability continues to feature strongly at trade events all over the world. Here in Delhi, there was a broad range of environmentally friendly items, including leather effect goods made from FSC certified cotton and recyclable metal kitchenware also on offer.
Our team connected with some great new suppliers at the event, including several local manufacturers who will help to expand our rapidly growing supply chain in the region.
ASL's blended sourcing model combines the very best suppliers from global, regional and local markets, to ensure we match our customers' requirement in a flexible, yet scalable way.
Visiting regional and local Trade Shows is an important part of this approach, ensuring our teams stay agile and connected with the freshest new ideas emerging from the supply chain.
---
Do you want access to the very latest promo ideas and innovations? Our teams love to share their knowledge and expertise, so book a free Innovation Workshop for your marketing team - we will build a bespoke, interactive workshop session tailored specifically to your brand, delivered in person or online, as required.
Contact us to book your Innovation Workshop today
---
ASL Global is committed to conducting our business in a responsible & sustainable way. Acting with passion and integrity, our people work with customers, suppliers and other stakeholders to make a positive contribution to social responsibility and environmental sustainability in communities around the world.
Discover more about our ONE WORLD initiative
---