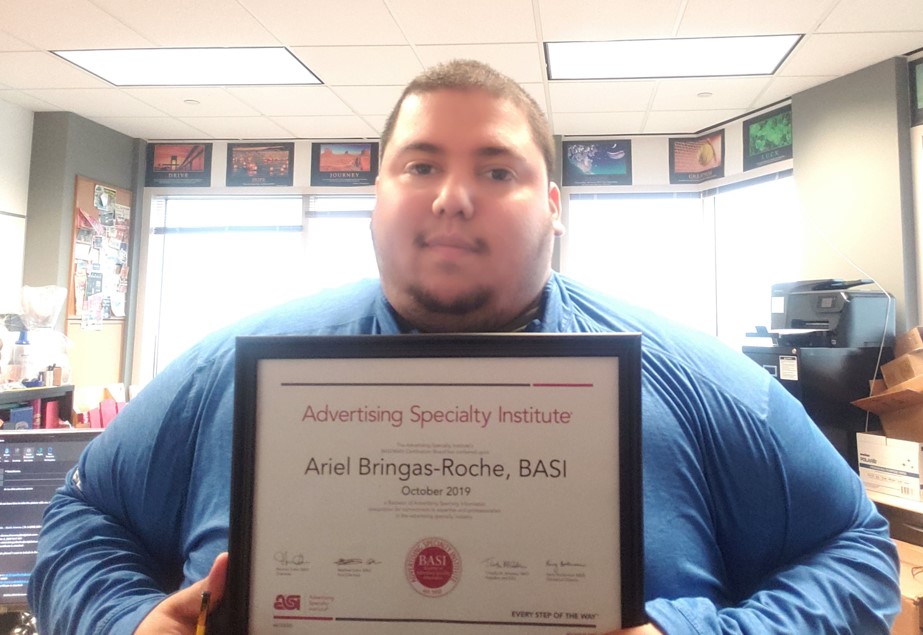 Posted on 17/12/2019 by Emma Pomeroy
ASL is committed to supporting our employees' professional career progression. As such, we are proud to report that Ariel Bringas, who works in our Miami Sales Team, has recently become certified as a Bachelor of Advertising Specialty Information by the ASI (Advertising Specialty Institute), one of two major certifications available from the promotional product industry's largest membership organization in the US.
Ariel has worked very hard to attain this certification, attending classes in person and online, to further his professional development. Despite fitting his studies in around full-time work, Ariel passed with flying colours and is now working towards his Masters certification.
ASI says of the certification "BASI holders are recognized as being able to thoroughly understand and navigate the promotional products marketplace profitably, and to develop solid relationships with their colleagues and clients that will help them prosper in the industry."
The Advertising Specialty Institute® (ASI) is the promotional product industry's largest membership organization offering media, technology, marketing and education to help cultivate success and community.
Well done Ariel, it's great to see all your hard work paying off. And good luck in your Masters studies!
Want to progress your career by joining a winning team which values expertise and commitment? We're always looking for ambitious people looking for the next challenge. Contact us today.